From a
derasha from Rav Moshe Shternbuch
, written down by Rabbi Travis, and posted at the Daas Torah blog.

Here is the
page in full
. But is this claim about what Modern-day psychology proposes indeed true?
Consider the following, from an
Intro to Psychology textbook
: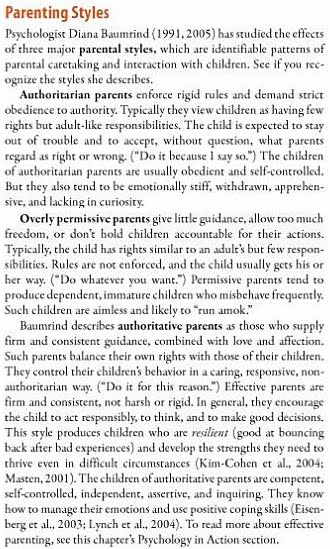 It would seem, then, that in describing these three parenting styles, "modern-day psychology" does
not
promote the parenting style of "overly permissive parents". Indeed, their conclusion seems to be more or less the same as that of Rav Moshe Shternbuch, that it produces dependent, immature children who misbehave frequently. Instead, it seems more like they are promoting an "authoritative parenting style" as effective parenting.
But I suppose if he wants to attack some position, he might as well attribute it to modern psychology, because he has a definite anti-science bent.
Assuming this is an accurate summary of his
derasha
, this is not the first time Rav Sternbuch has attacked modern science while getting some all-important detail wrong.
In the past
, he attacked Darwinian evolution because it is progressionist -- that species were developing in a way of progress, becoming "better" each time. That, Rav Sternbuch felt, was contrary to the teachings of the Torah that previous generations were greater than ours, which he would extend to the physical realm as well, and prior to the creation of man. (Really? The animals, created before Adam, were on a higher level?) But this is an attack on Lamarck, who was a progressionist. Darwinian evolution, and especially modern evolution is decidedly non-progressionist.
Should we really take criticism of science from those who treat it as heresy and therefore do not take the time and effort to truly understand it?